Penname:
charlottemasen [
Contact
]
Real name:
charlotte masen
Member Since:
10 Nov 2010
Membership status:
Member
Bio:
[
Report This
]
<
Reviews by charlottemasen
For the Love of Domination
by
krazi4TwiSaga
Rated:
NC-17
[
Reviews
-
1869
]
Summary:
Dr. Edward Anthony Masen Cullen is a world renowned pediatric neurologist, he´s also a very sought after Dominant living in the Seattle area. What happens when the thrill of the playroom is no longer enough? What happens when he wants more than just a Friday through Sunday arrangement... Bella Swan a very young and very successful Corporate Attorney, who happens to be secretly crushing on her best friends older brother. It all starts with a dream, but after a very short, but failed marriage, Bella decides it´s time to give in to her submissive nature. With the help of her best friend and a blind date, can Bella finally find all the things her live is missing. ExB Rated for BDSM themes and lemony goodness.
A very big thank you to the wonderful Kris Mkystich for my new banner! Isn´t it sexy!!! Check her out in the December Drabble Wars!! http://www.fanfiction.net/s/8769101/3/School-Of-Mischief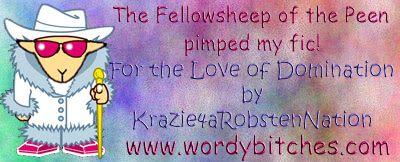 Winner of a Tomato Soup Award!
Nomimated for two Wordsmith Awards!
Voted Must Read Monday by Twi Girls Next Door

Winner of two Wordsmith Awards!
Categories:
Twilight
,
Canon Pairings
Characters:
Bella/Edward
Genre:
Drama
,
Erotica
,
Romance
Language:
None
TWCS Romance Contest:
None
Challenges:
Dominating Bella
Series:
Domward's Dungeon
,
Bdsm stories only
,
Twilight - Read
,
Drive's Stories to read that are Completed and Not completed
,
Can't wait for an update
,
Stories I've Already read
,
My Favorite Stories
,
Misstoria's Stories to Read
,
J's Read and Loved Stories
,
Fav BDSM Fics
Chapters:
31
Table of Contents
Completed:
No
Word count:
312058
Read Count:
355074
[Report This] Published:
06 Nov 2010
Updated:
19 Aug 2016
Reviewer:
charlottemasen
Signed
Date:
22 Nov 2010
Title:
Chapter 5: Chapter: 4 BREAKING UP IS HARD TO DO...
Really loving this...how often do you update?
Author's Response:
Thanks, I´m glad your enjoying it. I say that I update every two weeks, just to be on the safe side, but it usually comes sooner..Thanks for reading and reviewing!!
Have a Happy Thanksgiving!!!
Laterzzz:P
Krazi
xoxoxo
Reviewer:
charlottemasen
Signed
Date:
07 Feb 2011
Title:
Chapter 11: Chapter 10: It´s Playtime...
Umm - wow!!!
An Eternity to Love
by
mizzdee
Rated:
NC-17
[
Reviews
-
282
]
Summary:
Best friends at 5, in love at 15, ready to marry at 17. Edward and Bella were destined for forever. In 1918, tragedy fell upon the couple, ripping them apart. A very different Edward and Bella meet again years later and this time…eternity can be theirs.
This is an AU fic, loosely following the book with my own personal flair.
This awesome banner made by the awesome DivineInspiration
Categories:
Canon Pairings
,
Twilight
Characters:
Bella/Edward
Genre:
Action
,
Romance
Language:
English
TWCS Romance Contest:
None
Series:
None
Chapters:
34
Table of Contents
Completed:
No
Word count:
150252
Read Count:
43302
[Report This] Published:
10 Jun 2011
Updated:
01 Jan 2014
Reviewer:
charlottemasen
Signed
Date:
15 Oct 2011
Title:
Chapter 10: Chapter 10
oh dear lord i can't stop crying. i hope they meet soon, please update asap thanks x