Penname:
AnneKaye [
Contact
]
Real name:
Kaye
Member Since:
14 Feb 2010
Membership status:
Member
Bio:
Writing is my passion- I think it's pretty obviois.
Things about me:
1. I have ADD. I loose interest quickly in things and acomplishing stories is my goal. I recently finished my story called 'Sparkle' and I'm on to the sequel.
2. My writing obsession started out because of the Jonas Brothers. On Youtube, you would sometimes find fiction stories about them. Look it up if you haven't. And I used to be a crazy fan of them. Crazy enough to start a fantasy story about their life. Not much anymore. I moved on to twilight!
3. I'm Filipino Asian and when I first came here, I did not know English at all. But then I started reading 'big girl books" and my english enhanced.
4. I sometimes talk to myself- especially when I'm reading and writing.
5. I failed my English class last year. HAHA!
6. You know the coat hangers found in rooms? It's my ritual everynight to take off anything hanging on it becuase in the dark, I can make pictures out of nothing. The worse yet is the grudge that came from my black jacket.
7. I sometimes have insomnia. I once spent five hours in bed before finally giving up.
[
Report This
]
<
Stories by AnneKaye
Summary:
Edward Masen lived his life behind a lie: he's posing as gay in front of his parents. When he visit Chicago for the holidays to see his parents, he reunited with former best friend, Bella Cullen. She's the adopted daughter of Carlisle and Esme. They were seperated years ago and soon, Edward learns Bella's dark past. When feeling start to develop between them both, how can Edward tell Bella that he's not really gay? He now has to choose between coming clean to his parents or let Bella go like he did before.
Categories:
Twilight
,
All Human
Characters:
None
Genre:
Romance
Language:
None
TWCS Romance Contest:
None
Series:
None
Chapters:
1
Table of Contents
Completed:
No
Word count:
2743
Read Count:
159
[Report This] Published:
24 Aug 2010
Updated:
24 Aug 2010
A Forgotten Heart
by
AnneKaye
Rated:
NC-17
[
Reviews
-
2
]
Summary: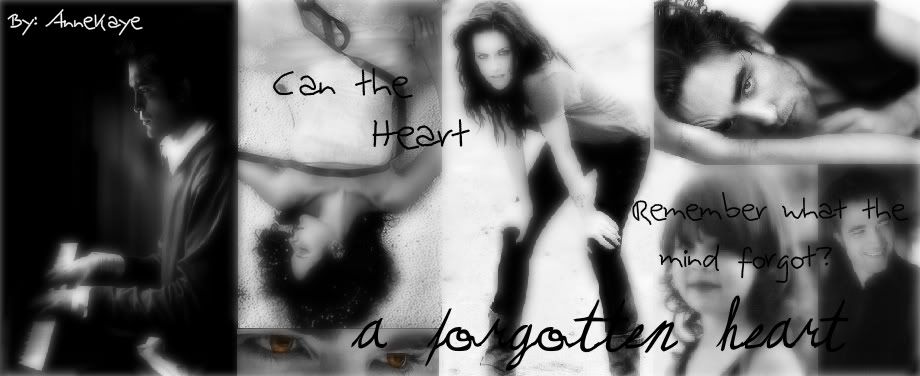 After Bella's transformation in Breaking Dawn, something goes wrong. She forgets everything- even her love for Edward and her own daughter, Renesmee. She runs away without a second thought and crosses paths with the Volturi by accident. There, they turn her into a human blood drinker and accepts her into their coven. After years, she's become one of the most ferocious vampires. What happens when Edward and Bella reunite? What happens when Bella learns about her past? What will Bella do when she meets Renesmee for the first time and later finds out she's her daughter? Will Edward, who still loves Bella very much even after all these years, be able show her his love?
Categories:
Twilight
Characters:
None
Genre:
None
Language:
None
TWCS Romance Contest:
None
Series:
None
Chapters:
2
Table of Contents
Completed:
No
Word count:
5802
Read Count:
170
[Report This] Published:
14 Feb 2010
Updated:
28 Mar 2010
Summary: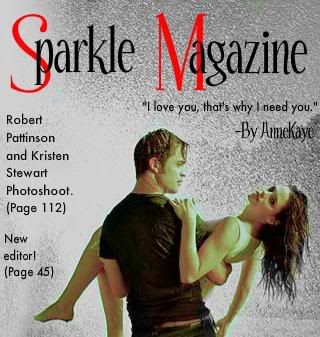 Freshly out of college, Bells Swan applies for a job and gets accepted at Sparkle Magazine. Her coworkers are great but her boss isn't. He's rude, arrogant, and self-assured. Will Bella somehow find a way inside the heart of the stuck-up Edward Cullen? Or things will just get worse?
AH/OOC/Cannon Pairings
Banner: Sparkle Magazine Cover
Posted in FFN.
Categories:
Twilight
,
All Human
,
Canon Pairings
Characters:
Bella/Edward
Genre:
None
Language:
None
TWCS Romance Contest:
None
Series:
None
Chapters:
1
Table of Contents
Completed:
No
Word count:
2169
Read Count:
103
[Report This] Published:
27 Feb 2010
Updated:
27 Feb 2010