Penname:
RiaMaria [
Contact
]
Real name:
Natalie
Member Since:
18 Feb 2010
Membership status:
Member
Bio:
I'm Ria, I'm a Mum of two from Surrey in England, and I've only just discovered fanfiction relatively recently.
I read alot, and write a bit, and my writing tends to fall by the wayside if I find a good fic that I can't put down. It has become unreasonably common for me to be up until the early hours reading "just one more chapter"!
I used to write a lot when I was younger, but this is the first time I've written anything in ten years, so it's all a bit of a learning experience. I would like to try writing my own original novel at some point, and writing here is giving me some great experience.
I have always been obsessed by fantasy, I was a massive Buffy fan when it was on, and I do still dig out the DVDs sometimes... Although it's difficult when most of the time I'm around a telly some horrible kids stuff is on. In fact, a lot of what I write is done in front of some inane children's program, which is disturbing considering some of the stuff I come out with! Alot of my darker stuff I blame on the fact I've been reading Stephen King since I was eleven, and will also devour any other fantasy / horror novel you can throw at me.
I am, of course, hopelessly in love with Edward Cullen, which was actually a done deal for me, as I spent my teenage years in love with Edward Rochester, who is, I'm sure, much of what SM based Edward Cullen on.
I am also the teensiest bit Robsessed, but ironically enough not as Edward! He's not Edward to me (as My Edward lives in my mind, and is mine and mine alone!), and I'm not actually that keen on the movies. I'm a fan of the books, and am glad that I was introduced to the beauty of Rob by his association with them. :)
[
Report This
]
<
Stories by RiaMaria
Summary: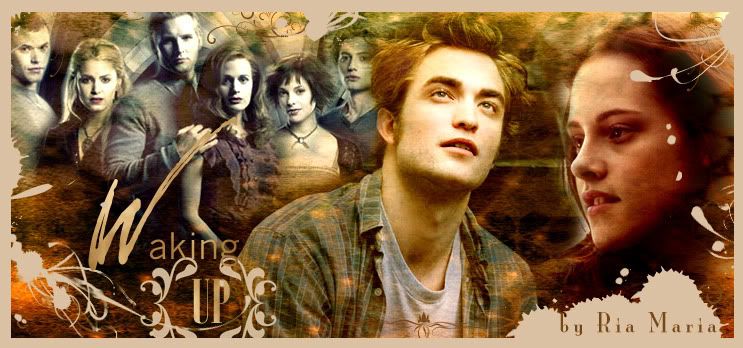 Set in the summer after Twilight, 2 weeks before the beginning of senior year, Bella wakes up one Saturday morning to find a sleeping, HUMAN Edward beside her. BxE AU. Rated NC-17 for lemons.
It was late August and we were going back to school in two weeks, so every single day had become invaluable to me. To be treasured, remembered forever, saved for a time I must leave to allow her to pick up her life as if I had never disturbed it.
But what about now? If I am truly human, that is no longer the case. I can give Bella everything she ever wants, everything she deserves. A real life, a husband….. children? I have no need to leave her. I can stay and love her forever……. If she'll have me.
Categories:
Twilight
Characters:
None
Genre:
None
Language:
None
TWCS Romance Contest:
None
Series:
Ageise02 not updated in 6mo reads
Chapters:
38
Table of Contents
Completed:
No
Word count:
292591
Read Count:
53343
[Report This] Published:
18 Feb 2010
Updated:
08 May 2011
Summary:
Situado en el verano despues de Twilight, 2 semanas antes de comenzar el ultimo año de escuela, Bella despierta un sabado para encontrarse a un durmiente y HUMANO Edward a su lado.
Categories:
Twilight
Characters:
None
Genre:
None
Language:
None
TWCS Romance Contest:
None
Series:
None
Chapters:
3
Table of Contents
Completed:
No
Word count:
15888
Read Count:
62
[Report This] Published:
23 Jul 2010
Updated:
21 Oct 2010
Summary:
Set 5 years after Breaking Dawn, the Cullens leave Forks for a new life. However, one of them lapses, putting the entire family at risk. This is not a Jake and Nessie story, and gets quite dark in places. Contains vampire violence.
I was rooted to the spot. I had been a vampire for five years, but I had never taken a human life, nor seen one taken. In the instant it took me to take in the broken form in his lap, I finally understood what I was, what we all were. I could smell the blood from the lifeless body in front of me, and it smelled good. My throat burned and my mouth filled with venom.
Categories:
Canon Pairings
,
Twilight
Characters:
Bella/Edward
Genre:
None
Language:
None
TWCS Romance Contest:
None
Series:
Ageise02's Read Stories
Chapters:
25
Table of Contents
Completed:
Yes
Word count:
83172
Read Count:
4568
[Report This] Published:
18 Feb 2010
Updated:
23 Mar 2010